Networking
Make your networking digital and interactive with ClickCard
Transform your networking with ClickCard! Keep your digital business card and data tools by your side.
Do you know what a business card is and what it is for?
If you already practice networking or already invest in your external communication with customers and partners, your answer should be yes.
But if not, continue reading this blog and we will explain everything you need to know about this tool.
The business card is a piece of paper or virtual file in which the professional groups the most relevant contact information, such as: email, phone, WhatsApp, social networks, address and among other data.
Check out some business card templates below and better understand their dynamics: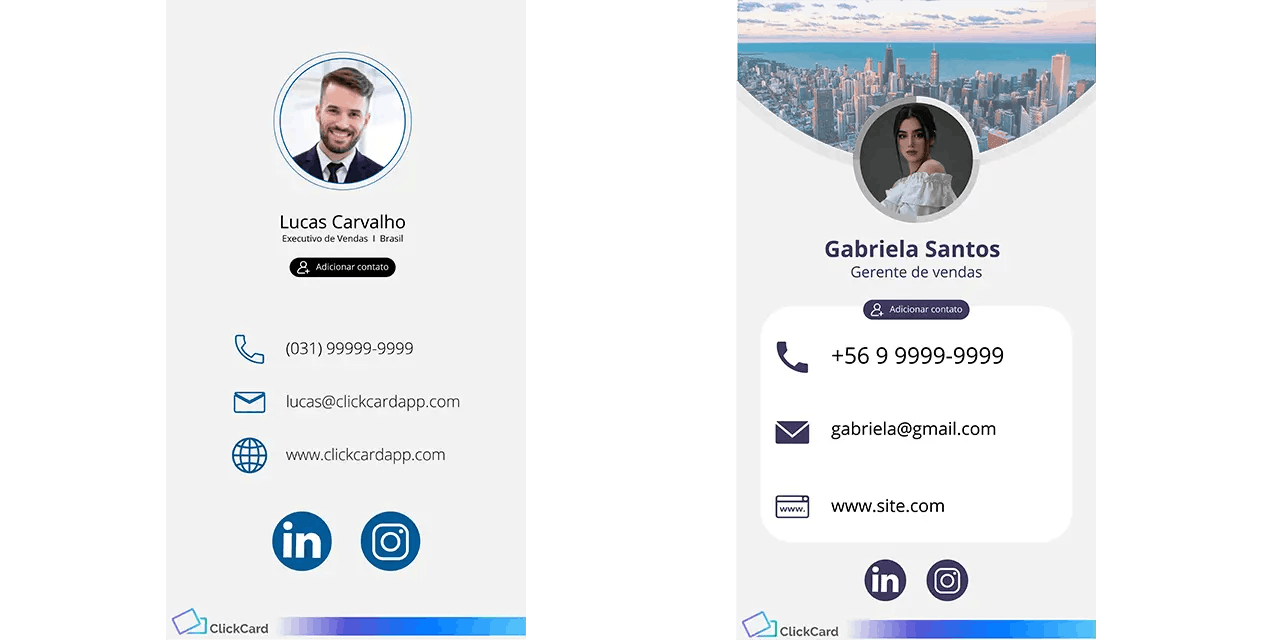 This tool itself can be used by many people and in many different ways. However, the main intention of this production is so that the professional, whether employed or owner of his own company, can promote his work to clients or potential business partners, in addition to strengthening connections in the corporate environment.
Networking can be practiced in different environments, such as: in the company itself, universities and workshops.
In this way, anyone in any environment can practice networking without any limitation to it.
The importance of the business card was due to the professional's need not only to share his contact with people with promising vision and performance, but also to strengthen his connection with them.
In other words, a professional who expands his field of view becomes close, whether he is already a connection or not.
In networking, we have two business card models: digital and printed.
Keep reading this post to better understand the difference between them.
Printed and digital business card
With the development of the networking practice, some bottlenecks began to become quite apparent, especially when it comes to business cards.
As with any investment, whether personal or professional, you need to base your actions on data to have a better view of your return.
When bringing this condition to the world of networking, we are faced with a mass group that, for the most part, cannot validate their actions or even improve their communicative skills because they do not have access to information. It is the indispensable result of your networking.
This occurs mainly with professionals who make use of printed business cards.
Despite containing a quality in the card exchange experience, the printed business card is quite limited for other functions, making it often ineffective.
As it is not a tool linked to a virtual environment, the traditional model ends up not generating feedback from the networking practiced.
This generates to the bearer, a feeling of uncertainty and uselessness. It can worsen to the end of the networking practice by not only a professional, but a company as a whole.
This situation is aggravating for several reasons:
Precisely because there is no data to be analyzed, when there is no return, the professional will automatically look for defects in himself. But when we talk about printed materials, the reason is not the only one.
It turns out that many people who share their data by printed business card, are unable to return because of: discarding the card by mistake through the connection, mental confusion in the attempt to remember which professional the card belongs to, the need for an effort to be generated for a simple task, such as saving a contact, and among other reasons.
Thus, there may be a negative view of this practice to be reflected in two ways:
Excessive and unnecessary spending on printed business cards to try to make up for this lack of return
End of a professional's investment in networking.
However, ClickCard believes that neither suggestion is a solution but a problem.
Taking on the challenge, ClickCard decided to create a tool that would overcome all the bottlenecks mentioned above. That is: an application where professionals, in addition to creating their digital business card, can track all their sharing data, thus generating the return that networking practitioners haven't had for a long time.
Follow the blog to learn more about this digital solution.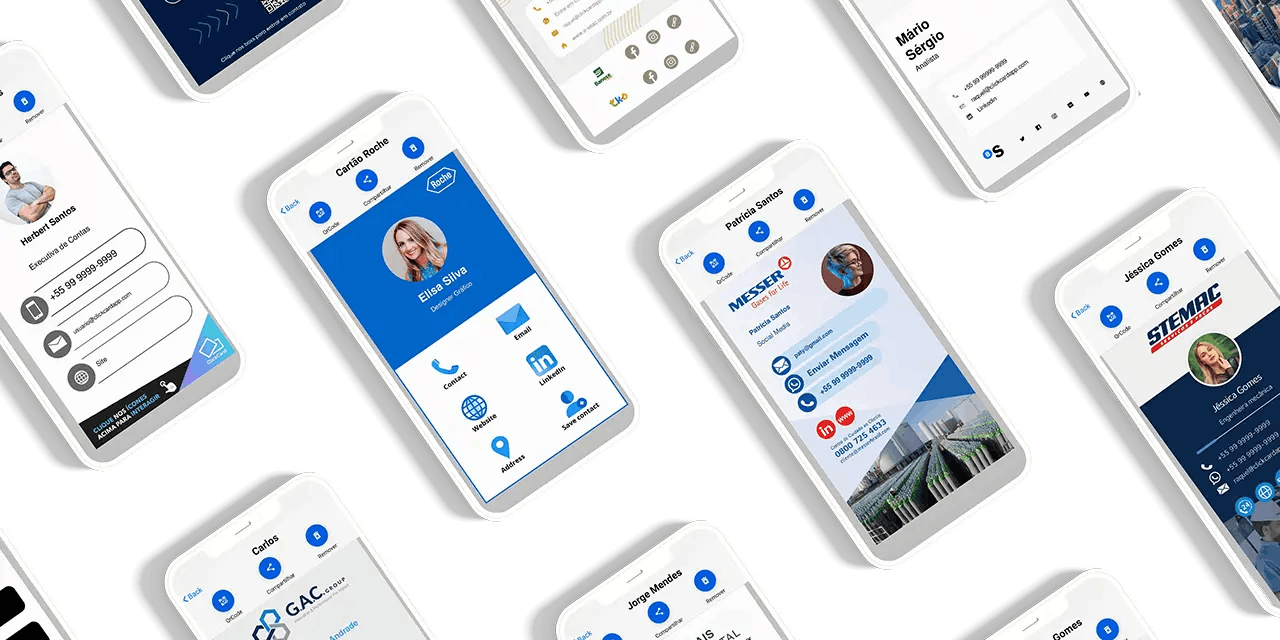 ClickCard App
After becoming aware of the defects that the printed business card incorporates, the entrepreneurs had to bring a solution to the job market that would cover all these negative points. Being them:
Excessive spending on card printing;
The lack of feedback;
The high cost for simple edits;
Difficulty sharing and saving contact.
With the harm clarified, the creation of a key resolution began, which would carry as a fundamental value the practice of networking by the professional without any economic or accessibility limitation.
And so came the digital business card, which provides unlimited sharing by the cardholder, as well as giving them access to their card engagement in real time.
In general, the digital business card has the following benefits:
Unlimited editing at no cost;
Card sharing to anywhere in the world;
Access to digital card engagement;
Digital wallet with automatic organization.
To better understand this evolution, let's go deeper to know all its benefits and disadvantages, in addition to knowing how ClickCard works with the newest networking tool: the digital business card.
Digital business card
To solve the problems found in the printed business card, it was necessary for ClickCard to find an economical, ecological and accessible solution. Thus, his challenge became: the construction of a tool that did not need paper printing to exist, in addition to being generated at low cost.
And so ClickCard generated its own digital business card.
The digital business card has the same values ​​as the printed business card. That is: it also aims to present the professional's information in a practical way, facilitating contact between them.
In addition to favoring the visualization of the digital card, the tool also allows quick and easy access by the receiver to the data presented. That is, in just one click, the receiver can call the professional, save the contact in the agenda or send an email.
The digital business card also allows that, if the receiver decides to leave it for later to record his contact, the card will have a photo, position, company recorded on the card so that he can more easily remember who it is, so that he is not completely subjected to your memory.
Just with the points already presented, we saw that the digital business card solved: the problem with discarding and saving cards manually; limited sharing via printed card; and access to the professional's means of contact.
To get an overview of ClickCard's digital business card, let's talk about its features: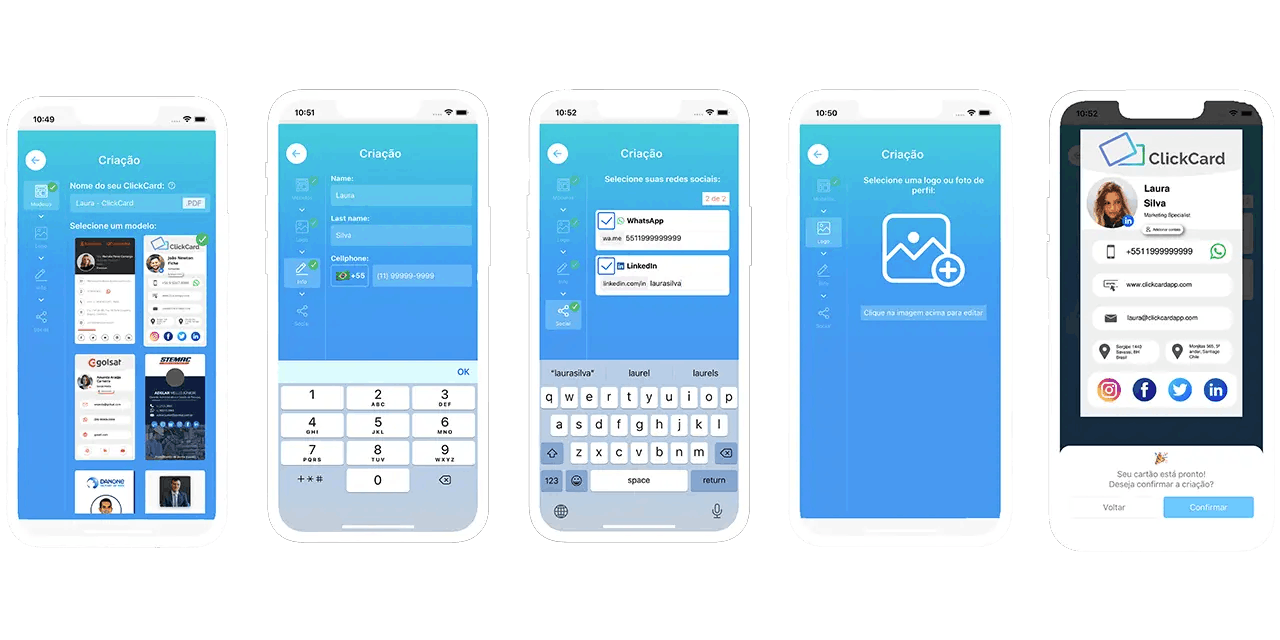 ClickCard App Features
With ClickCard, networking becomes cheaper and more sustainable, in addition to having an even greater reach than with traditional tools.
As it is a virtual tool, the digital card does not need to be printed and its properties are edited in the online environment. This results in savings on the part of the professional by not having to spend on changes and new prints, in addition to unlimited sharing of the same that does not need copies to be carried out.
But, for a better understanding, let's talk about each of these values and the functionalities that it is composed of.
Discover the app:
Digital business card maker
By downloading the ClickCard application, the user will be able to create their digital business card. With it, it will be possible to attach contact information that he wants, such as: photo, name, position, social networks, cell phone, email and address.
The division of this information, in the app, is already pre-established so that the user has a practical architecture at hand.
Each card template has its own design, thus providing the user with variations that they may like.
In the Creator, in addition to adding your information, the professional can edit the visual identity of your card according to what you want.
After completing this step, if there is a change that needs to be made, the persona can edit it without any hindrance.
Editing is done by the application itself without generating any cost to the user. In addition, he will also be able to create for himself as many digital business cards as he wants.
If the professional decides to engage the ClickCard creative team to generate a card template that they want, their future edits will also be done through the app.
The difference is that the customer will have the choice of complete customization, such as: the choice of icons, typography and any other graphic element that he wants.
Sharing tools
After creating a digital business card, the user has several ways to share it in the application. They are: custom link, QR Code and PDF.
To share it via a link, the user will only need to forward it via any digital media to the contact he wants. Your recipient will not need to be a ClickCard user to access it, as the link will take you to an external tab.
Even accessing the user's digital business card outside of the app, the receiver will be able to add it to their calendar and access their contact information in the same way.
If the connection wants, you can also respond to a FAQ informing the reason for your contact and who it is, to the owner.
This message is sent to the user's email so they can allow and contact the connection after being read.
The second way of sharing is done by QR Code.
This is one of the most used ways by users to share their digital card in person.
In the application itself, the user will have a QR Code for each card they obtain. To use it, he can send the QR Code by message or just expand it so that it can be read by someone up close.
Thus, as in the personalized link, the user will be forwarded to the card and will be able to contact or save it on their cell phone.
Sharing via PDF, on the other hand, is nothing more than sending the entire digital card to someone.
The person who receives the PDF will have the card in hand and will be able to contact the professional by clicking on their contact information.
These are the means of sharing that the ClickCard user has when forwarding their digital card to someone.
If your connection is also a ClickCard user, it will be able to find your card in the application itself by searching for your name.
In addition, ClickCard users can save contacts in the application itself through personalized search, close-up search and the printed business card scanner.
These results are automatically saved and organized in each user's Digital Wallet.
Want to know more? Access to learn more about this tool.
Metrics
As mentioned earlier, user feedback is essential in networking. In this way, ClickCard created the Metrics tool that presents users with all the accesses that their card gets in real time.
The Metrics tool lets the user know when the card is accessed and what your visitors click on when viewing it.
The functionality is able to manage engagement as a whole. That is, regardless of the means the professional used to share his digital card, all the clicks he gets will be computed by the Metrics tool.
This data can be filtered by periods. If the user wants to know how much engagement they received in a particular day, week, month or year, they can obtain this data separately by specifying their date in the tool.
To learn more, visit more blogs about the app.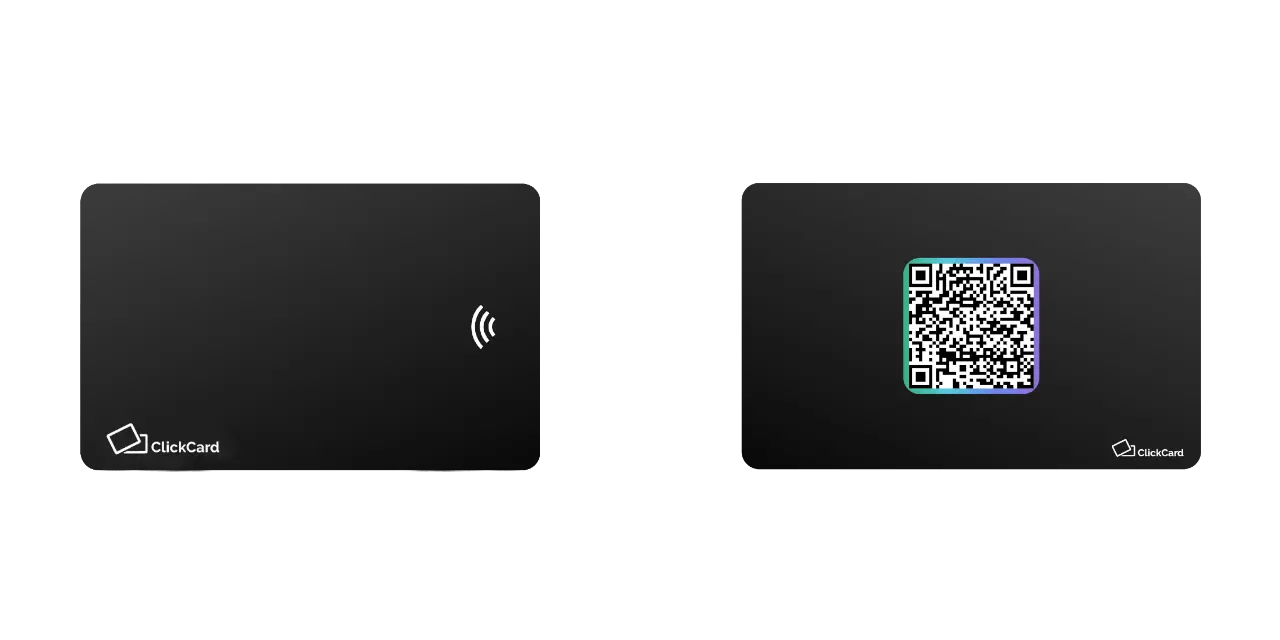 NFC card
Now when making a digital business card, the ClickCard customer can also request an NFC card.
The NFC card was ClickCard's response to its customers' needs. With this solution, it seeks to bring the physical card experience back to networking, while still maintaining its values.
The NFC card is an economical, ecological and easily accessible product that allows its holders to share their digital business card even faster.
Despite being physical, by sharing via approximation, the owner does not need to hand over his tool to someone else. In addition, all properties of an NFC are edited through a virtual platform.
You can purchase yours by contacting our team. Get yours!